Are you shipping goods across fluctuating climatic conditions? Then you need to consider protecting your goods from moisture damage with JMP's Mineral Clay Unisorb Desiccants!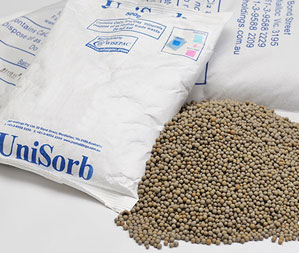 UniSorb® is an affordable form of transport protection for the reduction of dew point and control of condensation. UniSorb's® innovative design allows water vapor to enter the interior of the bag easily, where it is transformed into a thick gel and will not leak, escape or spill.
UniSorb® desiccants are manufactured from Calcium Chloride (CaCl2) and clay minerals. The large 1kg and 2kg bags are encased in a fully woven material with sewn seams to offer maximum strength and product consistency. They are then sealed inside DuPont's special Tyvek material to prevent any liquid leakage.
Independent testing by SGS International (at 37° 90% RH) has shown UniSorb® to uptake 100% of its own weight in water, without chloride migration.
When containers are loaded and shipped through fluctuating temperatures and relative humidity the possibility of condensation occurring is substantial as temperatures drop. UniSorb® helps keep the dew point temperature below the actual temperature, even when the actual temperature drops within the shipping container due to fluctuations.
"Dew Point Temperature" is the temperature at which water vapor begins to condense onto a surface forming liquid water. The liquid that results inside a container is called "Container Rain". Container rain will occur if the surface temperature of an object is equal to or lower than the dew point temperature. If the relative humidity is lowered with the absorbing properties of UniSorb®, the dew point temperature is also lowered, stopping container rain.
UNISORB® MINERAL CLAY DESICCANT RANGE
100 gram – Suited for electrical components and the exterior of palletised goods.
500 gram – Suited for marine and engineering components, medical applications and explosives.
1kg – Suited for machinery, boats, base metals, steel, iron, metal cans, automotive products (car seats, brake linings), electronic and digital equipment. 1kg comes with hanging hook for shipping container use.
2kg – Suited for use in 20 and 40-foot shipping containers. Ideal for protection of canned goods, glass, paper, cardboard, packed flour, pet food, cheese, milk powder, agricultural products, horse feed, leather products and pharmaceuticals. 2kg comes with hanging hook.
Unisorb Clay Desiccant performance
CONDENSATION IN YOUR CONTAINER? WHAT ARE THE CAUSES?
Containerised cargo can be subjected to significant temperature variations when stored on deck in the sun, whilst in storage awaiting trans shipment, or whilst crossing the equator.
As the temperature in the container rises the enclosed air is able to absorb more moisture. There are many sources of moisture in a container – the wooden floor and pallets, packaging material and possibly the cargo itself.
Conversely, when there is a drop in temperature the air is not able to hold this extra moisture, which is then released in the form of condensation. The temperature at which this condensation takes place is called the DEW POINT.
A TYPICAL CYCLE IS, THEREFORE:
As the temperature rises in a container, the enclosed air draws moisture from all possible sources inside the container, i.e. the wooden floor, pallets, product packaging and even the product itself.
Then as the temperature drops, i.e. during the night, during atmospheric changes, or when the ship moves into a colder climate, the moisture is released and condenses on the container's roof and sides.
The water that drips from the roof of the container (container rain), together with the condensation that forms on the product causes corrosion, mould, caking of powders, and damage to labels and packaging.
This process of warming and cooling repeats itself numerous times during a voyage, causing the damaging moisture cycle to repeat itself.
HOW DO UNISORB® CLAY DESICCANTS WORK?
UniSorb® desiccants are manufactured under controlled conditions in order to assure you of an absolutely dry desiccant upon delivery.
After your container has been packed, and the specially formulated film enclosing the UniSorb® bag removed, the desiccant will immediately start to absorb any moisture present inside the container.
On the container doors being closed, UniSorb® controls the humidity inside the container by continuously absorbing the moisture from the enclosed air inside the container. UniSorb® is designed to hold the moisture and not release it back into the container's climate.
As the humidity inside the container is kept continuously low, the air is dry enough to prevent condensation forming at low temperatures.
UniSorb® will continue to absorb the moisture until it has gained approximately 100% of its own weight (see graph).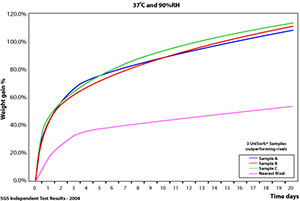 POSITIONING YOUR UNISORB® DESICCANTS
Placing your UniSorb® in strategic positions inside your container should ensure a dry cargo out turn at the final destination. Hanging Hooks on the UniSorb® bags allow the easy application to the interior ceiling rings, located inside the shipping containers.
INNOVATIVE DESIGN
Hook – For quicker and more flexible installation.
Double Packaging – Exterior made from Tyvek to prevent leakage and non-woven interior to reinforce strength.
Humidity Indicator – A pink reading indicates that the humidity inside the container has reached 90%RH 37. Consistent levels of 90% and above will result in water damage, mill dew and mould.
UniSorb® if placed correctly and in sufficient numbers will protect your cargo and keep it dry.
ABSORBENT

The Active Mineral is made from Montmorillonite clay mixed with Calcium Chloride along with several physical and chemical processes including reaction, granule-making, sifting and drying.
At 90%RH, 37o, the absorption capacity will be approximately 100% of its weight
It continues to reduce relative humidity down to a low level, which decreases the dew point temperature even further
Has the ability to protect shipments from start to finish, through all temperature ranges and relative humidity variances
Completely safe, non-toxic materials. UniSorb® Desiccants can be disposed of with regular waste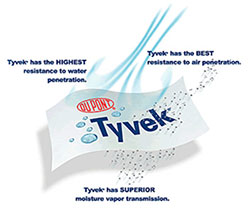 PACKAGING MATERIAL – TYVEK
DuPont Tyvek® is made from 100% high-density polyethene, which is spun into tough, continuous fibres to protect package integrity from both product breakthrough inside and rough handling outside.
Tyvek® uses a combination of paper, film, and fabric to provide exceptional strength, durability and high porosity.
Tyvek® is built tough and is designed to resist punctures making it ideal for use in abrasive environments. Tyvek's tight pore structure keeps even the smallest of particles from dusting through the package.
Tyvek® is used for both desiccant packets and bags.
Tyvek® is strong, lightweight, flexible, smooth, and low-linting. It is resistant to water, chemicals, abrasion and ageing.
The Tyvek® bag is also extremely tear-resistant, providing extra protection for your product. MIL-D-3464E dust testing has yielded a result of less than 0.5mg of dust. SGS Report 2080114/LD shows the sulfur content is 243PPM which is safe for an electronics product.
Tyvek® also meets the requirements of the U.S. Food and Drug Administration for use in direct contact with food and drugs.

If you have any questions regarding our desiccant range, Please contact us.