Whether you're moving it or storing it, it needs to be protected from moisture with Unisorb® Silica Gel Desiccants!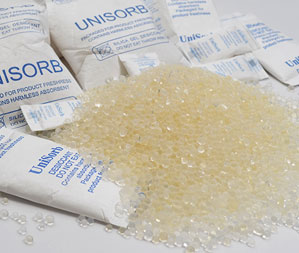 Below you will find all the information you need to know on our complete range of Unisorb® Silica Gel Desiccants. If you click on each item it will take you directly to our online store for small purchases. If you wish to order in bulk contact us directly for volume-based pricing.
Unisorb® Silica Gel Desiccants have now been certified by the USFDA to be used in direct contact with food and pharmaceutical products. For applications requiring USFDA approval
Unisorb® desiccants can be manufactured from 0.25 grams up to 14 grams.

WHY IS IT IMPORTANT TO USE UNISORB® SILICA GEL?
JMP's Unisorb® Silica Gel is a compact form of desiccant which was designed to protect from moisture damage within small to medium-sized enclosures. More often than not without the use of Unisorb® Silica Gel, these enclosures contain damaging levels of humidity and can cause irreversible moisture problems for the product within.
Camera's and camera lenses are a perfect example of expensive and complex products which are highly susceptible to moisture damage. Without trapping this moisutre by using silica gel you can expose items to rust, mildew, corrosion and even see a build-up of mould. These problems can cause untold damage to expense lenses and delicate electronic circuitry.
Unisorb® Silica Gel sachets fit neatly into all camera bags, are inexpensive yet will absorb moisture quickly and effectively, ensuring your camera equipment stays dry and in perfect working order.
USFDA APPROVAL… TO USE OR NOT TO USE?
If you are using Silica Gel in direct contact with products such as food and medicine it is imperative that you use a silica gel that has been manufactured by an operation approved by the USFDA.
Some companies sell silica gel in Australia packaged in USFDA approved materials like Tyvek, however the production process (lack of clean room processing) is NOT USFDA approved and you should consider the high risks of contanimation when using these products in pharmaceutical and food applications. JMP's manufacturer of Silica Gel (both materials and production process) IS USFDA certified to produce silica gel from 0.25 grams up to 14 grams that meet the extremely stringent USFDA standards.
The best way to to check if any silica gel supplier is USFDA approved is to ask for the report where the Drug Master File Number has been issued. JMP has a copy of this report for Unisorb® Silica Gel production and is happy to provide a copy on request. If your current supplier cannot provide one, then it is highly unlikely they are USFDA certified.
EXAMPLES OF WHERE TO USE SILICA GELRust / Corrosion / Oxidation – Coin Collections, Silverware, Jewelry, Musical Instruments, Fishing Equipment, Hunting Equipment, Computer Parts and Electronic Equipment.
Mildew / Fungus / Mold / Odor – Long term storage, collectibles, clothing and leather goods.
Spotting / Toning / Stains / Cracking – Stamp collections, documents, photographs and videos.
Reduction of Shelf Life – Photographic film, batteries, hearing aids and camera equipment.
Premature deterioration – Seeds, bulbs, grain, food and medicine.
MATERIALS USED
Unisorb® Silica Gel Sachets are made up of silica gel beads housed inside heat sealed Tyvek. The advantages of Silica Gel beads is that they have a high crush strength and are dustless. They also have a superior absorption capacity under a full range of temperatures and humidity and will stay dry once finished absorbing. Silica Gel is chemically inert, non-corrosive and non-toxic.
Tyvek is a high tech material developed by the DuPont Corporation. It is the ideal material to house silica gel as it has a superior water vapour transmission rate and allows zero liquid water transmission, thus leak proof! It is also anti-static and dustproof with high strength. Tyvek material is USFDA approved, non-toxic and safe.

Performance of Silica Gel Desiccants