WHAT ARE FLEXITANKS?
Flexitanks are large liners made from polythene (PE) with a protective polypropylene (PP) outer which are fitted inside a 20′ Shipping Container for the transportation and storage of non-hazardous liquids. Flexitanks can hold up to 24,000 litres of liquid and their use can significantly lower your storage and transportation costs.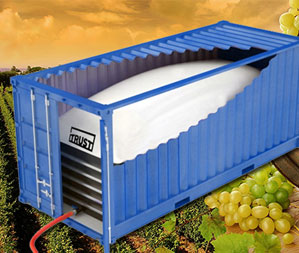 Once a Flexitank is removed it can be fully recycled and the shipping containing reverts back to a standard container to be used for dry goods. The use of Flexitanks is rapidly increasing around the globe as it replaces traditional methods of moving liquid in containers such as Barrels, IBCs, ISO Tanks and Chemical Tanks which are more expensive, time consuming and less readily available.
TOTAL CONFIDENCE IN OUR FLEXITANKS
Our Flexitanks are high quality multi-layer food grade PE flexitanks. Technology and Automation; Optimised Flexitank Design; Strict Quality Control; and Standards and Certificates.
Our Flexitank manufacturers are members of the Container Owners Association. They fully support the drive to improve and certify flexitank quality and service. Future growth depends on continual improvement within the industry. Our mission is to offer the best quality/cost solution, but to offer the BEST quality and the BEST cost solution!
ADVANTAGES OF FLEXITANKS
Strength & Rigidty – 4x125um + 180um woven PP multi layer tank.
Environment – can be recycled.
Reliability – Every flexitank is inflated and tested for leaks before packing. This is not possible to test every layer for leaks on a multi layer flexitank.
Expertise – We deal directly with the highly focussed technical team to offer you flexibility with high quality product.
Tried & Tested – Approved by the COA (Containers Owners Association).

AWARD WINNING AND PATENTED DESIGN
Flexitank development has now introduced to the market a revolutionary rectangular flexitank shape that fits perfectly inside a 20ft shipping container. Furthermore this design allows the flexitank to be produced by an automated process reducing cost and manufacturing errors. The one layer flexitank is made from a superior quality and highly durable film.
TRADITIONAL FITTING PILLOW SHAPE FLEXITANKS
FLEXITANK SPECIFICATIONS
Capacity 18,000 – 24,000 litre
Bottom and top load discharge; cam lock 3″ valves
Standard or EVOH layer PE film plus pp outer
Air vent, pressure valve.
QUALITY CONTROL
Quality sensors detect every possible failure of their machinery.
Every flexitank is tested by inflating before being packed.
Raw materials are checked according to COA "Code of Practice".
Every new raw material input and design modifications pass an internal test program. This includes extreme resistance tests with radical breaking manouvers on a truck.
Approved and tested by the COA rail impact test.
FLEXITANKS AND THE ENVIRONMENT
JMP Holdings are committed to reduce the environmental impact of our industry. Although the flexitank has a very low packaging per tonne of product shipped ratio, we continuously have to strive for further reductions.
Our Flexitanks are a multi- layer Flexitank that is able to undergo recycling.
In colaboration with film producers we are constantly looking for thinner and more resistant film in order to reduce packaging per tonne shipped. In colaboration with the COA, Trust are pushing to introduce recycling criteria in the "Code of Practice" for flexitanks.
TECHNOLOGY
Our Flexitanks automatic production line produces a flexitank with minimum labour input. Reduction of manual input reduces cost and failure rates.
Automated processes increase quality consistency and control costs.
The use of automatic welding technology allows a seamless flexitank everytime with minimal wastage of materials.

WINE TANK – EVOH
Our Wine Flexitanks have:
Multi-layer flexitank with EvOH barrier incorporated.
Significant protection against taint compound migration and oxygen transmission.
A special wine tank providing all the Trust Flexitank advantages.
The EvOH film offers significantly improved barrier properties compared to a typical Polyethylene film. On average, the EvOH film provided a:
89% reduction in the migration of Chloroanisols such as 2,4,6 TCA;
73% reduction in the migration of Chlorophenols;
75% reduction in the migration of Naphthalene and
61% reduction in the migration of Benzene, Toluene, Ethylbenzene and Xylene.
The oxygen barrier properties of the EvOH film were far superior to polyethylene, with the EvOH providing a 92% reduction in Oxygen Transfer Rate. Utilising the respective OTR values measured during this testing, it can be calculated that a Polyethylene flexitank will permit the transmission of approximately 14.8mg/L if oxygen over a typical 6 week journey, whereas an EvOH flexitank will transmit approximately 1.1mg/L which is less than a typical tank to tank transfer at the winery.

The superior OTR performance of the EvOH flexitank is likely to maximise the freshness and fruit character of the wine whilst minimising/preventing premature development/oxidation when it arrives at the destination market – in essence, maintaining the value of the wine as effective packaging should.
Ultimately, the performance advantage demonstrated by the EvOH film has the potential to provide winemakers with significantly increased confidence that their wine (& brand) is adequately protected once the wine has left their custody.
The full AWRI (Australian Wine Research Institute) report is available upon request.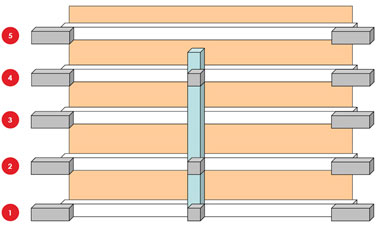 BULKHEADS FOR TRUST FLEXITANKS
Bulkhead bars with ring are 1, 2 and 4 starting from the bottom.
Vertical bar sleeve is placed in the 3 centre rings.
Horizontal bars are inserted in container sleeves and hung on the bulkhead board with cable ties as illustrated.
COA approved and tested.
STRONG – SAFE – ECOLOGICAL – Does not touch rear doors at any time.
Easily Recycled.
100% Compatible with Trust Flexitanks.
Bottom loaded Flexitanks come with support plate that leans against bulkhead sheet.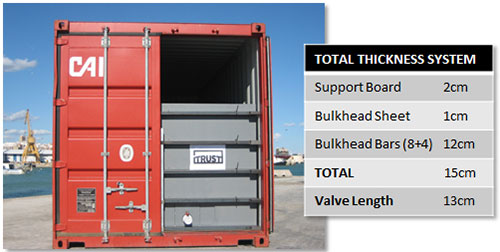 WOVEN FLEXITANK LINER
Simple to install.
Integrated foam aerothane base for added protection.
Easily recycled.
Fitted security within the container.
Fits in less than 5 minutes.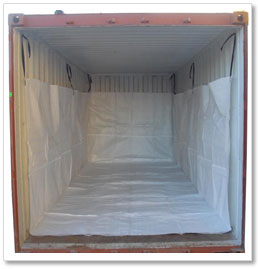 FLEXITANK LOADING PROCESS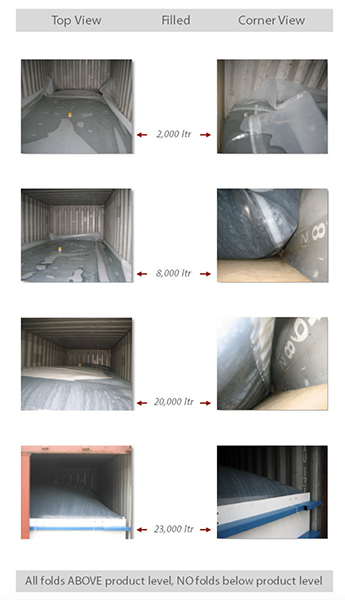 FLEXITANK VALVES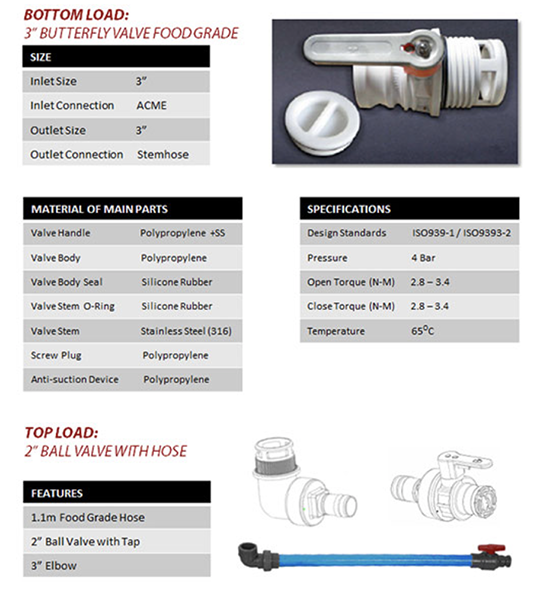 ACCESSORIES FLEXITANK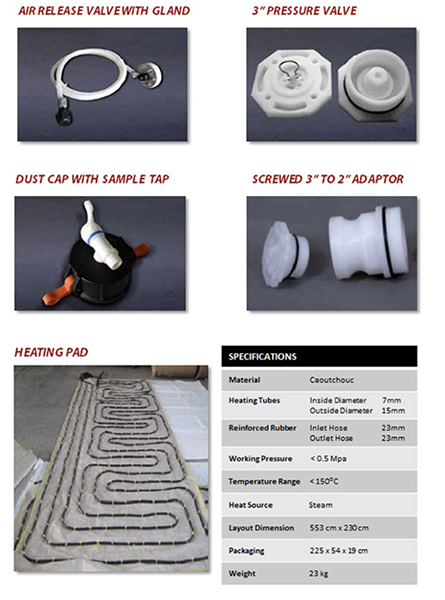 TEST REPORTS
​The following successful test results are available from JMP:
COA Flexitank/Container Combination Standard Rail Impact Test.
AWRI Barrier Properties Test on EvOH Film. Migration and Oxygen Transmission Rate Tests.
If you have any questions regarding our Flexitanks please contact us.